Note
Go to the end to download the full example code or to run this example in your browser via Binder
Controlling the contrast of the background when plotting#
The dim argument controls the contrast of the background.
dim modifies the contrast of this image: dim=0 leaves the image unchanged, negative values of dim enhance it, and positive values decrease it (dim the background).
This dim argument may also be useful for the plot_roi function used to display ROIs on top of a background image.
Retrieve the data: the localizer dataset with contrast maps#
Dataset created in /home/remi/nilearn_data/brainomics_localizer

Downloading data from https://osf.io/hwbm2/download ...

Downloaded 778240 of 1508563 bytes (51.6%,    0.9s remaining) ...done. (3 seconds, 0 min)
Downloading data from https://osf.io/download/5d27ddc91c5b4a001b9ef9d0/ ...
 ...done. (2 seconds, 0 min)
Downloading data from https://osf.io/download/5d27d29145253a001c3e284f/ ...
 ...done. (2 seconds, 0 min)
Downloading data from https://osf.io/download/5d275ede1c5b4a001aa00c26/ ...

Downloaded 2990080 of 13951266 bytes (21.4%,    3.7s remaining)
Downloaded 5693440 of 13951266 bytes (40.8%,    2.9s remaining)
Downloaded 8822784 of 13951266 bytes (63.2%,    1.8s remaining)
Downloaded 11821056 of 13951266 bytes (84.7%,    0.7s remaining) ...done. (6 seconds, 0 min)
Downloading data from https://osf.io/download/5d27037f45253a001c3d4563/ ...
 ...done. (1 seconds, 0 min)
Downloading data from https://osf.io/download/5d7b8948fcbf44001c44e695/ ...
 ...done. (1 seconds, 0 min)

Plotting with enhancement of background image with dim=-.5#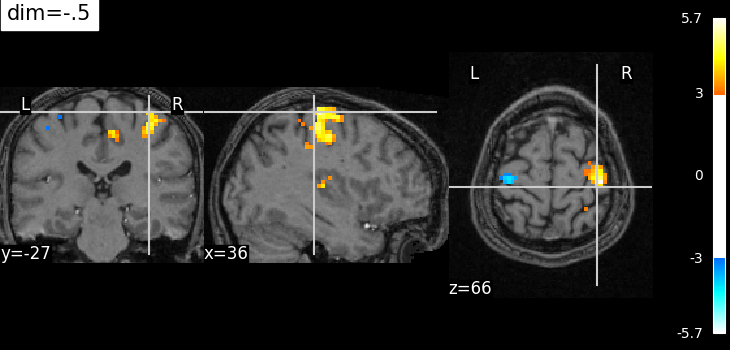 <nilearn.plotting.displays._slicers.OrthoSlicer object at 0x7fd1f246bd90>

Plotting with no change of contrast in background image with dim=0#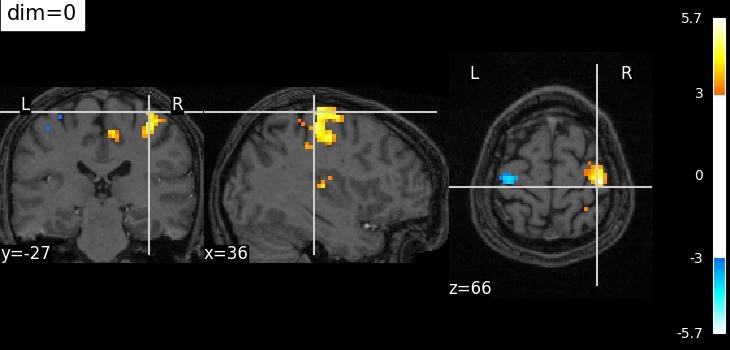 <nilearn.plotting.displays._slicers.OrthoSlicer object at 0x7fd1e33a2510>

Plotting with decrease of contrast in background image with dim=.5#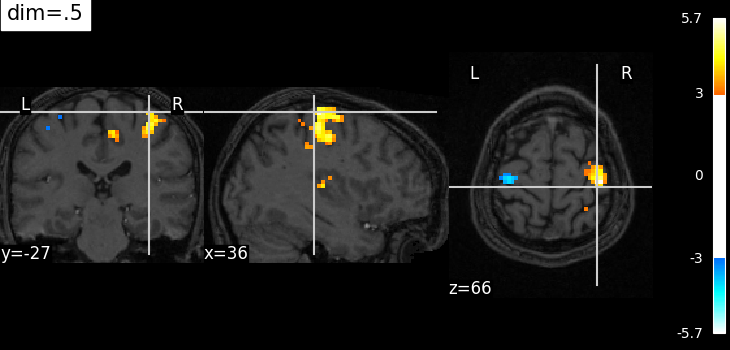 <nilearn.plotting.displays._slicers.OrthoSlicer object at 0x7fd1f26a5a50>

Plotting with more decrease in contrast with dim=1#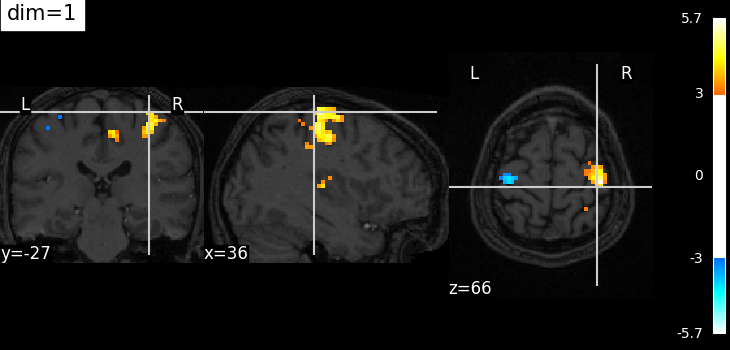 Total running time of the script: (0 minutes 23.722 seconds)
Estimated memory usage: 9 MB